By Rebecca LeBoeuf
New Hampshire University, May 11, 2018 —
Nursing is the fastest-growing profession in healthcare. According to the American Association of Colleges of Nursing (AACN), nurses represent more than one-third of healthcare workers. The U.S. Bureau of Labor and Statistics (BLS) estimated that there were 2.7 million registered nursing jobs in 2014, a number that's projected to grow an astounding 15% by 2026. Added to the huge portion of the nursing workforce that's approaching retirement, there could be more than 438,000 new nursing jobs available by 2026, with opportunities to pursue more than 100 specialties ranging from school or camp nurse to cardiac care.
So many options can leave new nurses wondering which specialty is right for them. To help, we've compiled a list of the 20 types of nurses employers are looking to hire.

There are Hundreds of Types of Nursing Jobs
If you're still not sure what kind of career you want to pursue as a nurse, don't worry. This list is just a slice of the hundreds of types of nurse you can become in your nursing career. Nurses are the most employed profession in healthcare and is the occupation with the third highest projected change in employment in the U.S. According to the U.S. Bureau of Labor and Statistics (BLS):
1.69 million RNs work at hospitals
196,040 work at physician's offices
179,310 work at home healthcare services
155,450 work at skilled nursing facilities
132,070 work at outpatient care centers
And, demand for nurses keeps growing.
According to BLS, there were 2.91 million nursing jobs in 2017, with the average RN making $73,550 per year. That number is projected to grow an astounding 15% by 2026 – creating more than half a million jobs.
Advance Your Career in Nursing
Earning your Bachelor in Nursing or Master in Nursing provide you with an undeniable advantage in your nursing career.
Although it isn't required for a registered nurse to have a BSN degree, according to the latest survey by the National Council of State Boards of Nursing, more than 65% of RNs are now prepared at the baccalaureate level or higher. A BSN helps prepare you for the increased complexity of care, advances in technology and a shift from acute care settings to community based care, and many RN specialty certifications require a BSN as a minimum education requirement.
And, earning your BSN or MSN can help you at the outset of your career. According to the American Association of Colleges of Nursing, 49% of employers now require new hires to have a bachelor's degree in nursing, up two percentage points since 2015, and 86.3% express a strong preference for BSN program graduates.
Additionally, a 2017 AACN survey found that 73% of BSN students and 78% of MSN students had job offers at the time of graduation, versus 25% of all new graduates. Four to six months after the completion of their programs, the survey found employment among entry-level BSN and MSN graduates to be 94% and 95%, respectively.
Finally, in 2010, the Institute of Medicine released a report, The Future of Nursing, that called for increasing the number of nurses with BSNs to 80% by 2020, which means more and more hospitals, especially those with the American Nurses Credentialing Center's Magnet designation, will require their nurses to hold a BSN or higher.
Start Your Career in Nursing
Few careers have as much potential to positively impact people's lives as nursing. According to the AACN, nurses are the primary providers of patient care in hospitals, deliver the majority of long-term care in the country and have a huge impact on patient satisfaction and treatment outcomes.
"People who want to work in the service of others, who want to aid in healing the whole person make excellent nurses," said Southern New Hampshire University online BSN graduate Julie Antis.
According to a 2016 Medscape survey of more than 10,000 registered nurses in the United States found that 95% of respondents were glad they became a nurse.
Nursing is a career that allows you to create the life you want. While some nursing jobs follow a standard five-day workweek, many registered nurses work nights, weekends and even holidays, offering flexibility to fit your life. And, nurses are in demand all across the country, which means you can opt for a change of scenery without damaging your career.
"It is tough work…but it's amazing and you can truly build a career," said Hannah Boutselis, a cardiothoracic O.R. nurse. "There is always something new and you can always find something to learn about! Nurses never stop learning. Once you think you know everything, something new comes along and you start all over."
1. Certified Nursing Assistant (CNA)
Average salary: $27,520
New jobs by 2026: 173,400
Education required: State-approved education program, on-the-job training
Location: Nursing care facilities, hospitals and long-term care facilities
Responsibilities: Monitor vital signs, bathe and dress patients and assist with their repositioning and walking
2. Licensed Practical Nurse (LPN) and Licensed Vocational Nurse (LVN)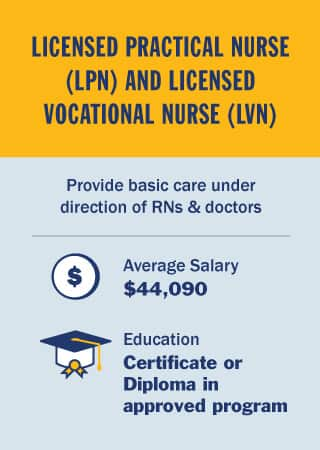 Average salary: $44,090
New jobs by 2026: 88,900
Education required: Certificate/Diploma in approved educational program, often found in technical schools and community colleges
Location: Nursing care facilities, hospitals, physician offices, home healthcare
Responsibilities: Change bandages, monitor blood pressure, collect blood and urine samples and address patient concerns to RNs and doctors
3. Registered Nurse (RN)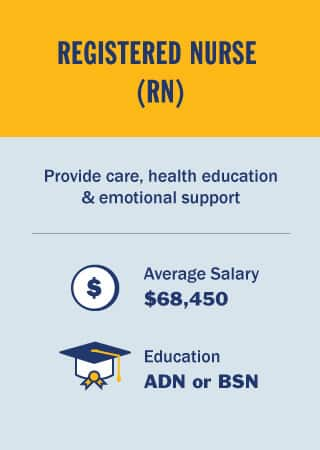 Average salary: $68,450
New jobs by 2026: 438,100
Education required: Associate's Degree in Nursing (ADN) or Bachelor of Science in Nursing (BSN)
Location: Hospitals, ambulatory care services, nursing care facilities
Responsibilities: Assess patients, administer medications and treatments, assist in diagnostic testing and provide emotional support and health education to patients and their families
4. Advanced Practice Registered Nurse (APRN)
Average salary: $110,930
New jobs by 2026: 64,200
Education required: Master of Science in Nursing (MSN)
Location: Physician offices, hospitals, outpatient care centers
Responsibilities: Diagnose patients, manage treatments, order tests and prescribe medications
5. Clinical Nurse Leader
Average salary: $77,655
Education required: MSN
Responsibilities: Improve patient care plans by working with social workers, doctors, nurse specialists and pharmacists, and occasionally provide bedside care to patients
6. Nurse Practitioner
Average salary: $103,880
New jobs by 2026: 56,100
Education required: MSN or a master's degree in a specialty role
Location: Physician offices, hospitals
Responsibilities: Examine patients, diagnose health problems, analyze test results and administer medicine and treatments
7. Nurse Educator
Average salary: $72,020
Education required: MSN, Doctor of Nursing Practice (DNP)
Location: Academic settings, clinics, hospitals
Responsibilities: Develop continuing education programs, facilitate training, provide educational resources to staff and design educational initiatives to improve patient care
8. Informatics Nurse
Average salary: $77,657
Education required: BDN, Master's in Health Informatics, Health Care Management or Quality Management preferred
Location: Information Systems department of healthcare organizations
Responsibilities: Maintain medical hardware and software, train medical staff and ensure that electronic documentation meets accreditation and review organization standards
9. Nurse Case Manager
Average salary: $69,395
Education required: BSN
Location: Hospital, nursing home, industrial environment
Responsibilities: Work with patients, medical staff and insurance providers to find the most cost effective care plan, monitor progress, evaluate care and suggest alternative treatments
10. Critical Care Registered Nurse
Average salary: $69,574
Education required: BSN
Location: Intensive Care Units, specialty hospitals
Responsibilities: Provide complex care to those with serious illnesses or injuries
11. Medical/Surgical Registered Nurse
Average salary: $62,518
Education required: ADN, BSN preferred
Location: Hospitals
Responsibilities: Assist surgeons during procedures and care for patients before, during and after surgery
12. Travel Registered Nurse
Average salary: $66,081
Education required: ADN, BSN
Location: Varies
Responsibilities: Fill temporary or seasonal shortages or provide care in remote areas where medical facilities do not exist
13. Emergency Room Registered Nurse
Average salary: $62,395
Education required: ADN, BSN
Location: Emergency rooms
Responsibilities: Perform triage upon patient arrival, determine order of treatment, conduct examinations, record patient histories, monitor patient progress and consult with supervising physicians
14. Labor and Delivery Registered Nurse
Average salary: $58,272
Education required: ADN, BSN
Location: Hospitals, private care facilities
Responsibilities: Assist mothers through labor and delivery, perform cognitive tests on newborn babies, help parents select a plan of care and assist in the post-delivery care of both mother and child
15. Home Care Registered Nurse
Average salary: $65,976
Education required: ADN, BSN
Location: Patient homes
Responsibilities: Prepare equipment, change dressings, administer medication and monitor conditions
16. Staff Registered Nurse
Average salary: $65,663
Education required: BSN
Location: Hospitals
Responsibilities: Provide the majority of direct patient care, monitor patient conditions, administer medication and answer questions
17. Per Diem Registered Nurse
Average salary: $65,976
Education required: ADN, BSN
Location: Hospitals, healthcare facilities, nursing agencies
Responsibilities: Cover RN staffing shortages
18. Nurse Supervisor
Average salary: $71,013
Education required: ADN, BSN, MSN
Location: Hospitals, long-term care facilities
Responsibilities: Supervise nursing staff, schedule hours, hand out patient assignments, complete performance evaluations
19. Oncology Registered Nurse
Average salary: $66,203
Education required: BSN
Responsibilities: Provide care for patients undergoing treatment for cancer or patients who are at risk for developing cancer, administer medication and closely monitor patient conditions
20. Neonatal Intensive Care Registered Nurse
Average salary: $60,766
Education required: ADN, BSN
Location: Neonatal Intensive Care Unit
Responsibilities: Provide care to babies who were born prematurely or with significant health issue and provide information and emotional support to the patients' parents