The Must-Read Stories and Research Behind Women and the Labor Movement

From American Federation of Government Employees
WASHINGTON, March 17, 2016  — Although March has been officially designated as Women's History Month, our members and the AFGE Women's & Fair Practices Departments fight for equality, dignity and fairness for women in the federal and D.C. government every day.
Why? Because—like our brothers and sisters at the International Association of Machinists and Aerospace Workers—we know a woman's place is in her union.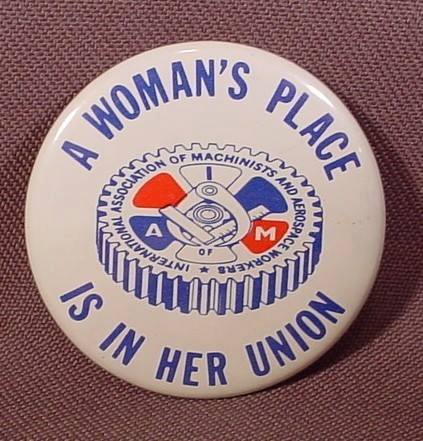 We know that unions make a difference in the lives of women, their families, and their communities all over the world. So, we decided to find out why.
Here are the must-read stories and research that explains how unions make a difference for women in America and beyond:
Learn the Stories: Photos, Videos, and Heroines
– 25 Labor Events and Organizers Who We Should Teach During Women's History Month
– Ai-jen Poo Leads a Nationwide Movement of Nannies, Housekeepers, and Care Workers to Gain Long Overdue Workers' Rights [VIDEO]
– How One Woman Is Fighting for Transgender Rights at the VA [VIDEO]
– The Woman on the Forefront of Landmark Protections for LGBT Employees
– Suffragettes No More – The Long Struggle for Women's Equality
– What Happened to This Brazilian Aerospace Worker Will Leave You Speechless
– Womens History Month: Homage to our Trabajaoras
Get the Facts: The Latest Research
– And Still I Rise: Black Women Labor Leaders' Voices, Power, and Promise, a project from The Institute for Policy Studies (2015)

– Latino Workers and Unions, a report from the Labor Council for Latin American Advancement, 2015 (http://lclaa.org/images/pdf/publications/Latino_Workers_and_Unions-A_Strategic_Partnership_for_Americas_Progress.pdf )

– Transforming Women's Work: Policies for an Inclusive Economic Agenda, policy recommendations from the Solidarity Center, AFL-CIO, and Rutgers Center for Women's Global Leadership, 2016 (http://www.cwgl.rutgers.edu/docman/economic-and-social-rights-publications/784-transforming-women-work-policies-for-an-inclusive-economic-agenda/file)

– The Women's Leadership Gap, a report by the Center for American Progress (2014)
– Unionized Women Earn More than Nonunionized Women in Every U.S. State, a report from the Institute for Women's Policy Research (2015)
Have something you'd like to add to the list? Did a story move you? Did a statistic surprise you? Tell us on Twitter.
/PRNewswire-USNewswire/