By Allen Smith, J.D.
SHRM, February 12, 2018 —
But economist predicts automation won't lead to fewer jobs
​Women are in the greatest danger of being replaced in the workforce by automation, unless they are retrained for other jobs, according to a recent report from the World Economic Forum in Davos, Switzerland. Black employees also are at risk of losing their jobs to robots, Katrinell Davis, a professor in Florida State University's Program in African American Studies, said in an interview.
But Heidi Shierholz, senior economist and director of policy for the Economic Policy Institute, said, "There is no basis for believing that robots or automation are having an unusual transformative effect on the labor market."
Davos Report
Of the 1.4 million jobs in the United States that the Bureau of Labor Statistics projects will disappear by 2026 because of automation, 57 percent belong to women, noted the Jan. 22 report. For example, women dominate administrative assistant positions and the report stated that 164,000 women in those jobs may be out of work within the next eight years. But with retraining, women in these roles can transition into other positions, the report observed.
Cashiers are another position dominated by women that may be vanishing due to automation.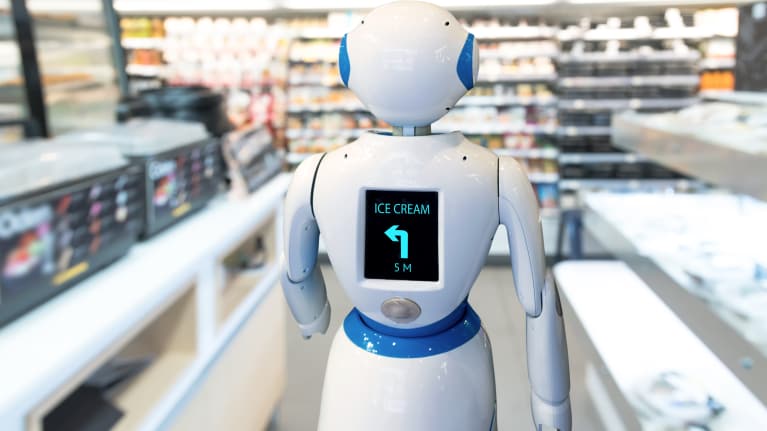 People holding such jobs might seek retraining by employers or the government, said Theodore Roos, a principal at Boston Consulting Group in London and co-author of the report.
With retraining, 95 percent of the most immediately at-risk workers will be able to find good-quality, higher-wage work, according to the report. By contrast, without retraining, only 2 percent will have the chance to transition into new jobs.
The predictions aren't infallible, Roos said, noting that many predictions from 20 to five years ago about jobs have been wrong. "With that in mind, we need to prepare" because change is inevitable, he observed, saying the report's appendix may help people identify future career paths that aren't obvious transitions.
For example, with some retraining, a travel agent displaced by a website might become a real estate agent, the appendix noted.
Detrimental Effect on Minorities
Automation may replace those in jobs involving repetitive tasks, such as in the hospitality industry. According to a Dec. 21, 2017, piece in The Atlantic, a high percentage of such positions are filled by Latinos.
Latinos are far more likely than whites to cite automation as the key cause for why their hours or pay have been reduced, or even why they lost a job, the article stated. And Latinos haven't been targeted for retraining, it notes.
In a Jan. 16 article in The Atlantic, Davis, who also is a sociologist at Florida State, asserted that black workers also are likely to be disproportionately affected by automation.
Automation likely will replace jobs in general merchandising, urban transit and telecommunications, she told SHRM Online, many of which are staffed by black workers. "Automation is also likely to take out jobs in the service industry, which has been a predominant employer of working-class people of color since the late 1970s," she said.
In a few years, the number of workers needed for restaurant and sales duties will be drastically reduced with the increased use of automation, she predicted. "Many of the workers who are vulnerable to automation are not represented by labor unions," Davis noted, saying they "are especially vulnerable to the rise of automation in the workplace."
She added, "Black women in particular face the greatest current risk … because black women are predominately employed in industries and positions where automation is already occurring."
Fears of Jobs Disappearing Overblown?
However, Shierholz doesn't believe automation is going to lead to fewer jobs.
"The fear of job-stealing robots has been recently stoked in the media, and pundits frequently refer to automation as a key driver of long-term middle-class wage stagnation," she said. "But are robots actually transforming the labor market at an unprecedented pace? Nope."
Granted, technology and automation have changed the way work gets done, she acknowledged. But technology is not a problem, she suggested.
"Robots and automation allow us to increase efficiency by making more things for less money," she said. "When goods and services are cheaper, consumers can afford to buy more robot-made stuff or have money left over to spend on other things. When consumers spend their leftover cash on additional goods and services, it creates jobs. These new jobs help compensate for the jobs lost to automation."