By Valerie Potter, Managing Editor, Features,
ComputerWorld, June 12, 2017 —
Special Report – Best Places by the numbers: Top 10 rankings and more
What tech pros want, what top employers deliver.
Computerworld's annual Best Places to Work in IT list showcases the top 100 U.S. workplaces for technology professionals. Here we've gathered some highlights from the 2017 report.
On the employer side, we list the top 10 organizations for benefits and other categories, as well as average IT bonuses, training budgets and more across all 100 employers. On the employee side, we tallied up survey results from nearly 24,000 IT staffers at the 100 organizations who responded to a variety of questions about benefits, career opportunities, workplace morale and more.
First up are our top 10 rankings. These employers scored the highest when it comes to benefits, training, employee retention and career development: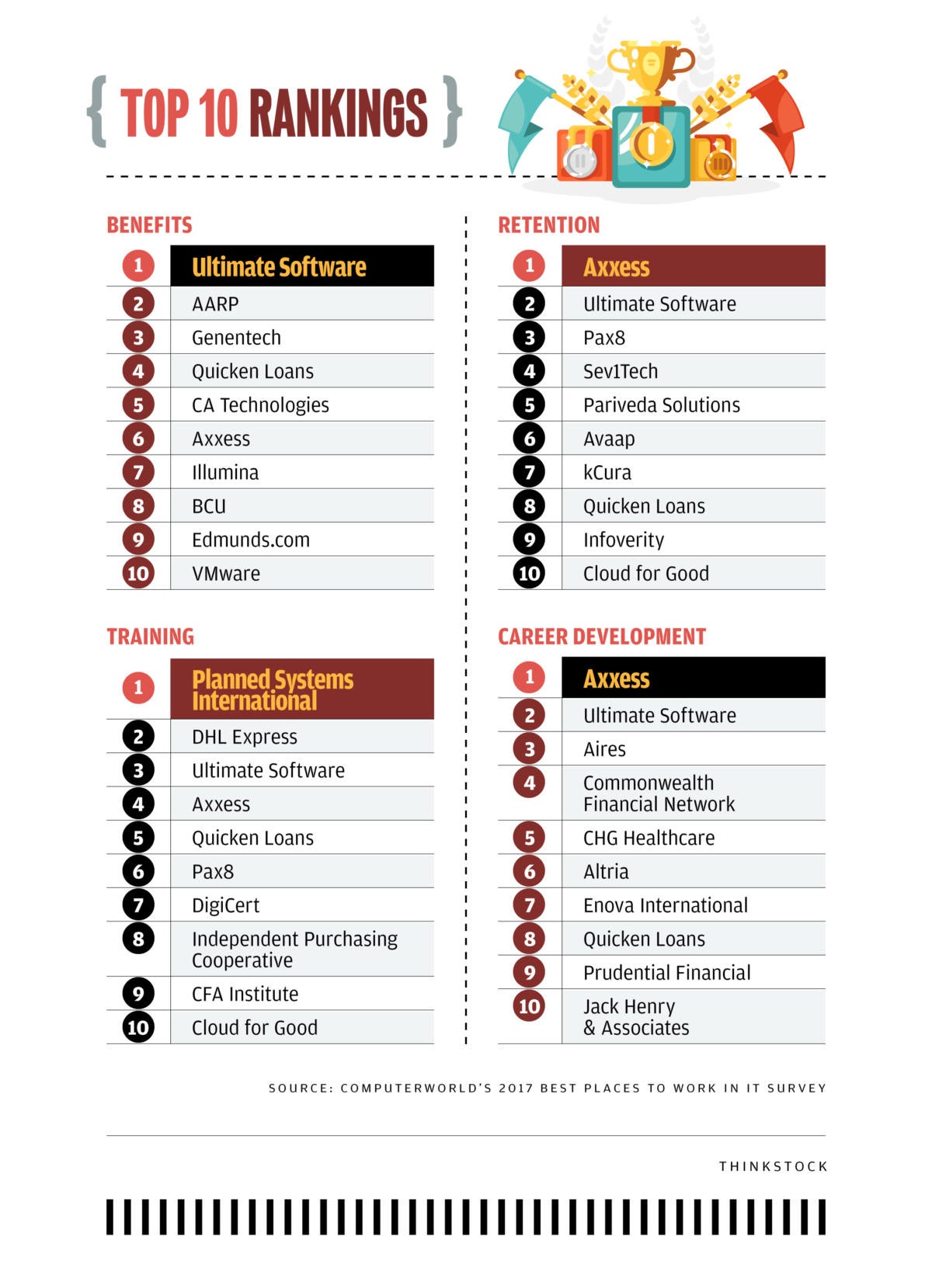 All 100 employers on our list offer paid time off and health insurance as part of their benefits packages, and nearly all provide flexible working options, employee wellness programs and reimbursement for technology certifications. Compensation packages typically include a 401(k) or 403(b) plan, overtime pay and individual bonuses, and the vast majority of Best Places organizations have budgeted for IT salary increases in 2017.
The 100 organizations are scattered across the U.S., with the highest concentrations in the South Atlantic, North Central and South Central regions. (See our interactive map to find exact locations.)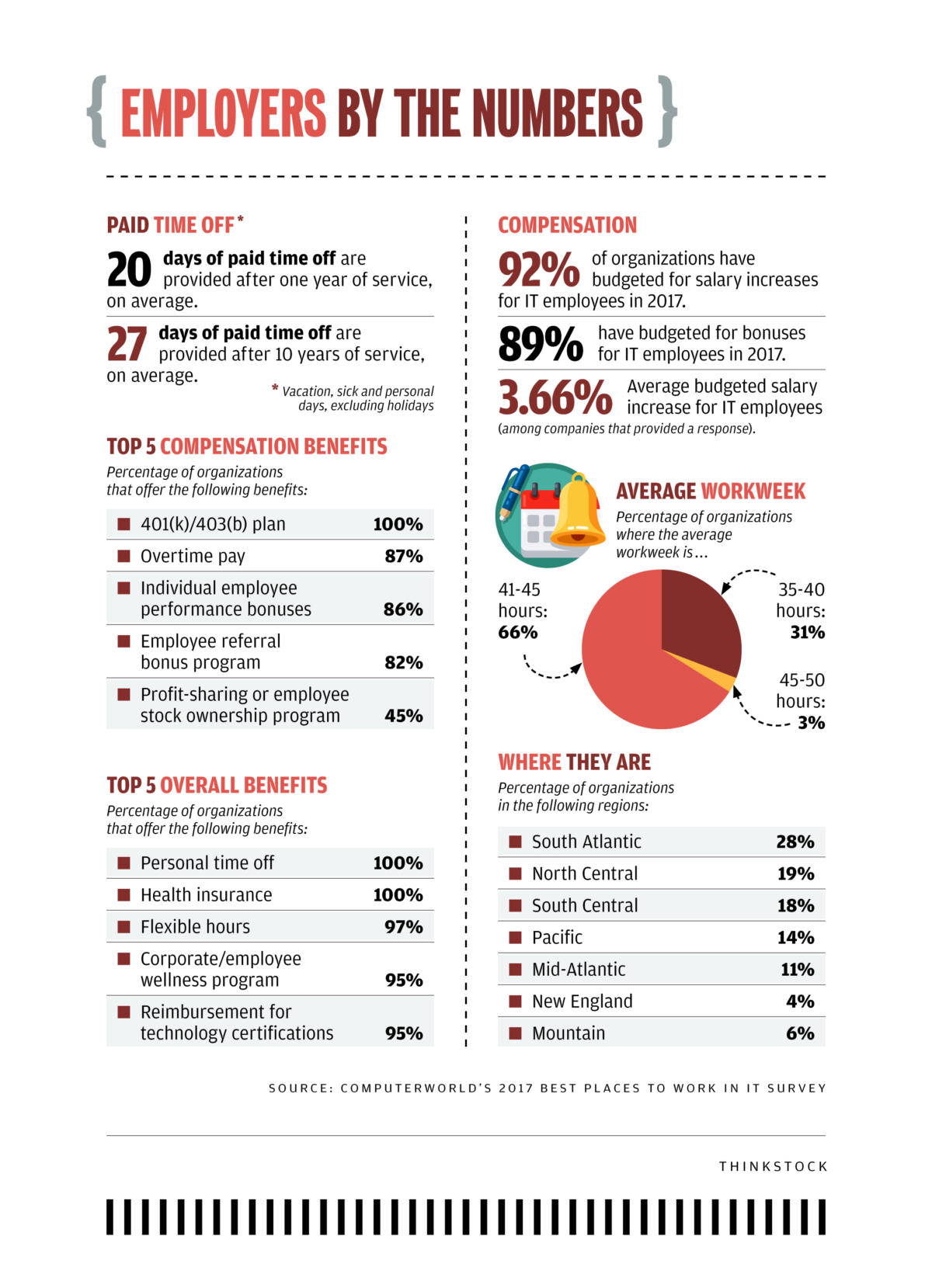 Good news: Best Places organizations are looking to hire, with 70% of the organizations on our list saying they expect to increase their IT staffs this year. The highest percentage of Best Places organizations are in IT services or consulting, followed by healthcare and finance.
The employers on our list are serious about their employees' career development. In addition to reimbursing workers for certifications and other outside training, they offer an average of 10 training days per IT employee per year and spend more than $2,000 to train each tech worker. Many offer mentorship and/or other career development programs, and it pays off: Nearly 12% of their IT staffers were promoted last year.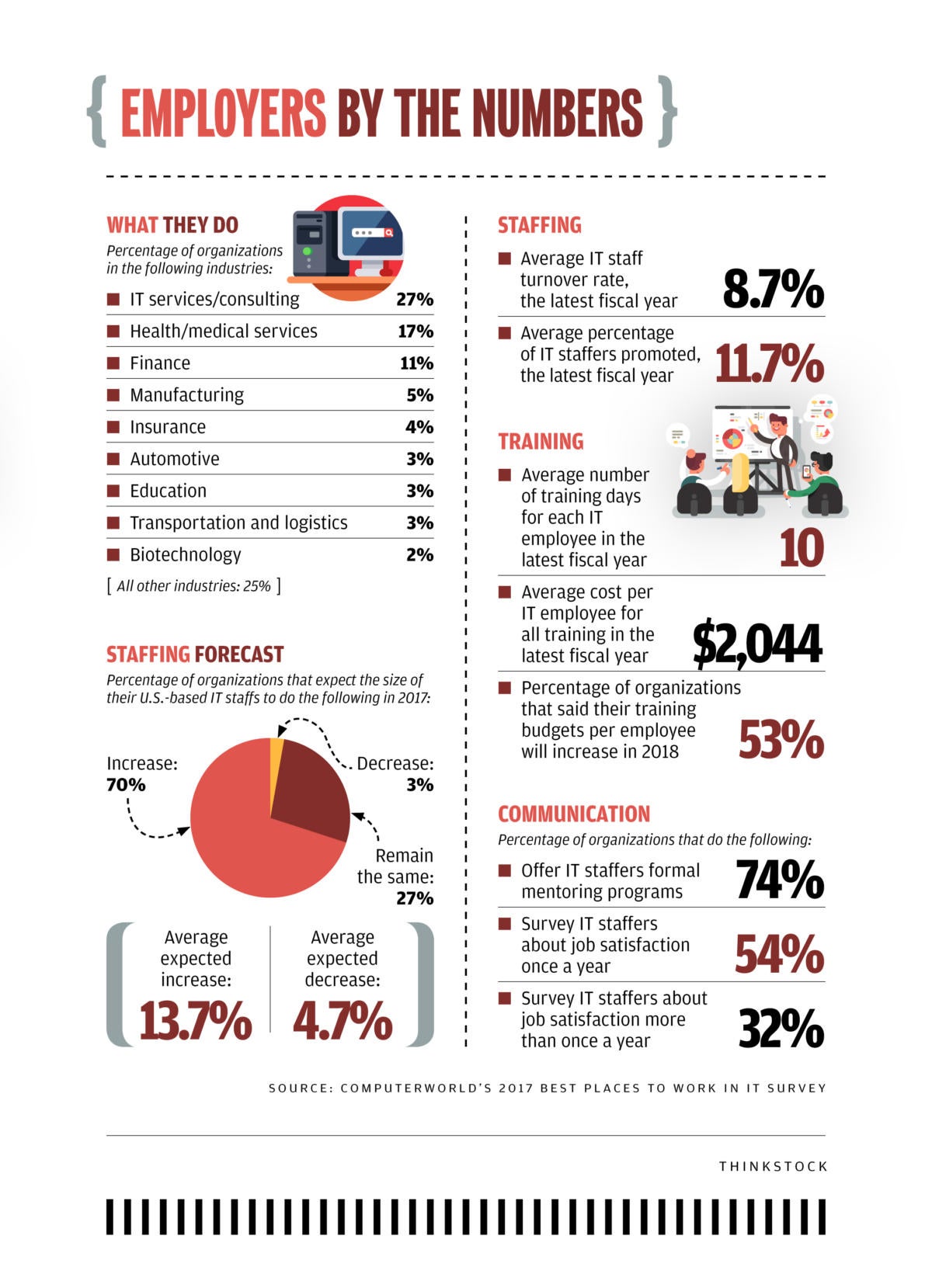 The tech pros who work for these 100 organizations value these same benefits, naming fair compensation, career opportunities and access to training as among the most important aspects of their jobs. But intangibles such as having an enjoyable work environment and on-the-job challenges are important as well.
Workplace stress is typically moderate: 48% of survey respondents said their workplace was somewhat stressful, while only 25% said it was stressful or very stressful. And nearly three quarters of respondents rated morale in their IT department as very good or excellent.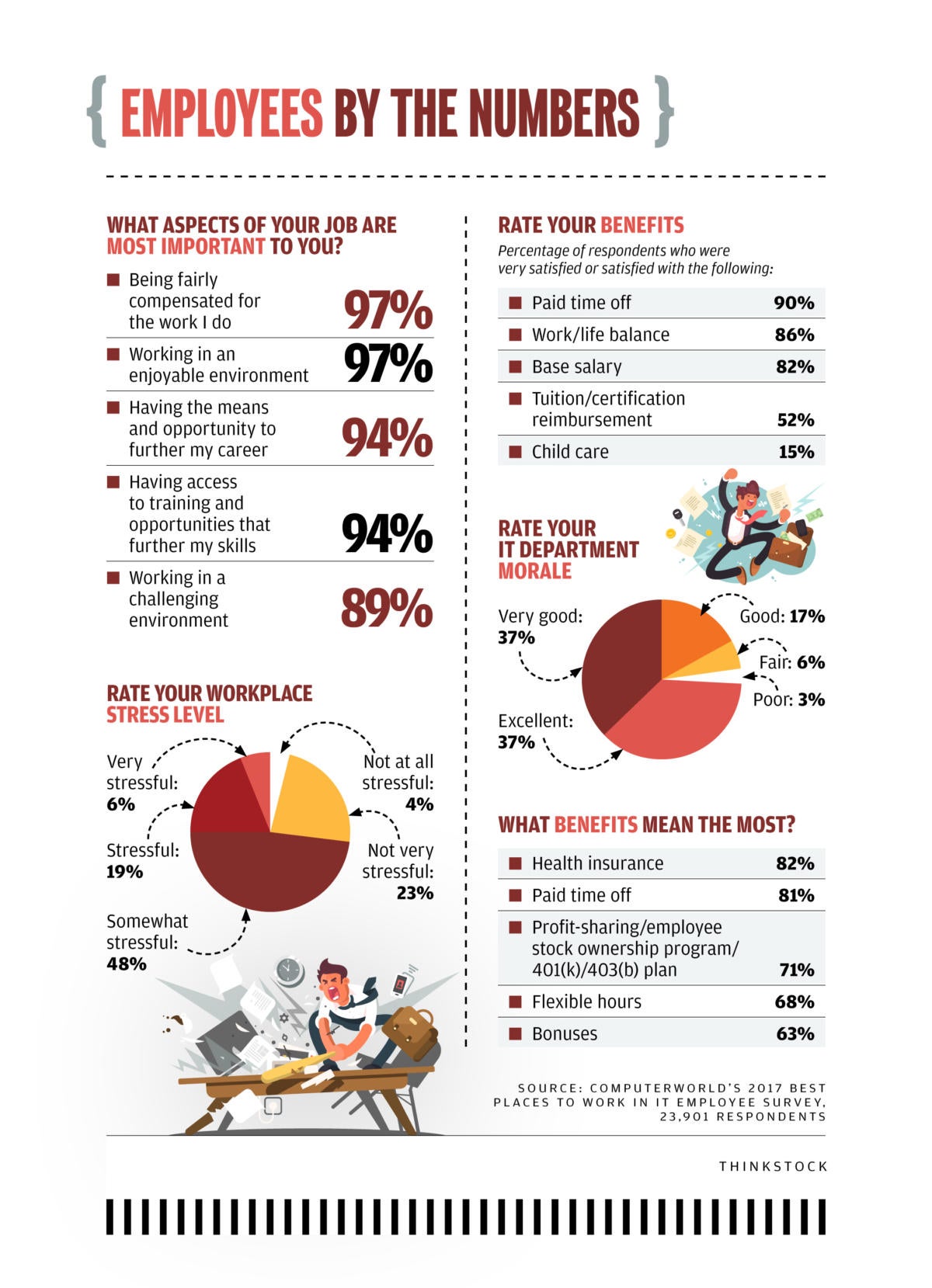 This year's survey process was managed by Mari Keefe, Computerworld's editorial project manager. Art director April Montgomery created the graphics. Senior features editor Tracy Mayor compiled and edited the Best Places to Work in IT 2017 special report.
Next: Welcome newcomers! Meet the 19 organizations new to the Best Places ranks