20% of women believe gender has contributed to a missed promotion or raise

By Stephen Miller, CEBS
SHRM, Dec 12, 2016 —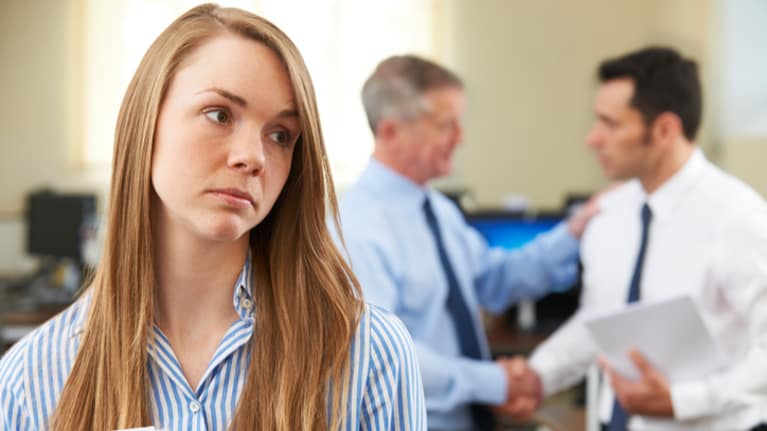 The gender pay gap in the U.S. is real but more complicated than is often reported, new research indicates. Lack of career advancement tends to keep women in lower-paying nonmanagement roles, and spending fewer hours on the job is a contributing factor.
A study by PayScale Inc., which provides compensation resources and software, looked at uncontrolled gender pay data (comparing working women and men generally) and found that, on average, women across the U.S. earn 76 cents on the dollar compared with men in 2016, a huge 23.7 percent difference, although down a bit from last year's 25.6 percent gap.
But controlled data (comparing men and women with similar job type, education and experience, holding similar positions) show that women earn 98 cents on the dollar compared with men, or just 2.4 percent less (down from last year's 2.7 percent gap), according to the firm's 2016 Inside the Gender Pay Gap report, released on Dec. 6.
The pay findings in the report were collected from 1.8 million U.S. employees who completed the PayScale Employee Compensation Survey through October 2016. Employee attitudes about pay equity noted in the report were based on based on a second survey of 80,000 workers, conducted over the past few months.
The Career Advancement Gap
Why such a huge difference between the controlled and uncontrolled numbers? Jobs and industries with higher pay are often disproportionately filled with male workers. But even within a given industry, the gender pay gap increases as employees move up the corporate ladder, the researchers found.
"Women are significantly less likely than men to hold management roles," said Lydia Frank, vice president of content strategy at Seattle-based PayScale. "At the start of their careers, men and women tend to work at similar job levels, most often entering the workforce at the individual contributor level. Over the course of their career, both men and women move into manager- or supervisor-level roles, and eventually to director- and executive-level roles. But men appear to move into these roles at significantly higher rates than women."
For instance, she noted, the report shows that:
Men are 85 percent more likely than women to be vice presidents or C-suite executives by midcareer.

Men are 171 percent more likely to hold those positions late in their career.
Conversely, by the time they reach age 60, more than 60 percent of women are still working in individual contributor roles, but less than 45 percent of men are still in this type of job.
Bias—both overt and unconscious—is still seen as a factor holding women back, many female respondents believe. The researchers found that nearly 20 percent of all women and 36 percent of those with MBA degrees felt their gender was a factor in missing a raise or promotion.
The survey also examined whether men and women thought their employers were taking steps to address the gender pay gap and making opportunities for promotion more equitable. Overall, about 17 percent of men said their employer was proactively addressing pay inequity, while roughly 10 percent of women felt the same.
Both women and men who believed their employer was not addressing gender inequity reported being less satisfied at work and more likely to seek a new job.
"Equitable pay and promotion practices are not just good for employees, they can also have a serious impact on talent retention for both genders," said Frank. "Employees want to work for an organization that shares their same values."
The Working Hours Gap
A polling report released by Gallup at the end of October, Women in America: Work and Life Well-Lived, focused on another factor contributing to the gender pay gap: the number of hours worked. In the U.S. workforce, 47 percent of men say they work more than 40 hours per week, while 30 percent of women say the same.
Gallup, which interviewed over 500 U.S. adults earlier this year, found similar disparities among hourly and salaried positions:
In salaried roles, 28 percent of men say they work 50 to 59 hours per week, compared with 16 percent of women who say the same. While the disparity doesn't directly affect pay among workers who are exempt from receiving overtime pay, more hours worked can be a factor considered in promotions and career advancement.

In hourly roles, 10 percent of men say they work 60 or more hours per week, compared with 3 percent of women.
"While men say they work more hours at their jobs than women do, these findings do not suggest that men work harder than women," noted Jane Miller, chief operating officer at Gallup, and Amy Adkins, a Gallup writer and editor, in an analysis posted on Gallup's website.
"The much more likely scenario is that women often work two jobs: as mothers and as full-time or part-time employees," Miller and Adkins wrote. "Working mothers tend to have fewer hours in their day to give to their jobs. They have children to pick up from school and take to baseball or dance practice, homework to supervise, laundry to fold, and a family to feed."
They added, "While there are certainly working fathers who participate in these stereotypically maternal activities, the reality is that women are still the primary caregivers with the majority of oversight for their homes and families."
Similarly, PayScale found that the highest male/female pay gap occurred when comparing married working mothers with married working fathers.
Addressing Gender Inequality
Employers can help to alleviate an underlying cause of gender pay inequity by addressing family caregiving burdens on women, in part, through flexible work policies.
In addition, an internal career mobility program can help employees visualize their career growth within the company and to develop the skills needed to advance to higher-level positions.
On Dec. 7, more than two dozen chief executives of major U.S. companies launched a Paradigm for Parity Coalition to help businesses achieve gender equality in upper-level management. The campaign calls for companies to adopt a road map that includes establishing measurable targets for the representation of women at every level, training employees in spotting hidden biases, and identifying women who have shown management potential and providing them with career sponsors.
"We support this initiative not only because it's the right thing to do but because we know we can't reach our full potential as a business unless we recruit, hire, develop and retain women leaders as part of a diverse leadership team that represents the markets we serve," said Muhtar Kent, chairman and CEO of the Coca-Cola Co., on the coalition's website.