It helps when white-collar industries dominate.

By  Tatiana Darie Wei Lu
Benchmark, Bloomberg Business, March 8, 2016 —
Gender parity in the workplace may still be a long way off, but in some states women's voices are louder than elsewhere.

Maryland is the most gender-equal state in the U.S., with Vermont second and Minnesota, Connecticut and Hawaii rounding out the top five, according to data compiled by Bloomberg. The ranking is based on the female-versus-male pay ratio, women's labor participation rates, college degree holders, health coverage and poverty levels.
For women in Oklahoma, Mississippi and Louisiana, the picture is bleakest.

"Women tend to do well where the industries that dominate that state are white-collar industries, whether it's insurance, or healthcare or education or government," said Heidi Hartmann, president of the Institute for Women's Policy Research in Washington. Maryland benefits from being geographically close to "not only this federal government here, but three state government capitals very nearby."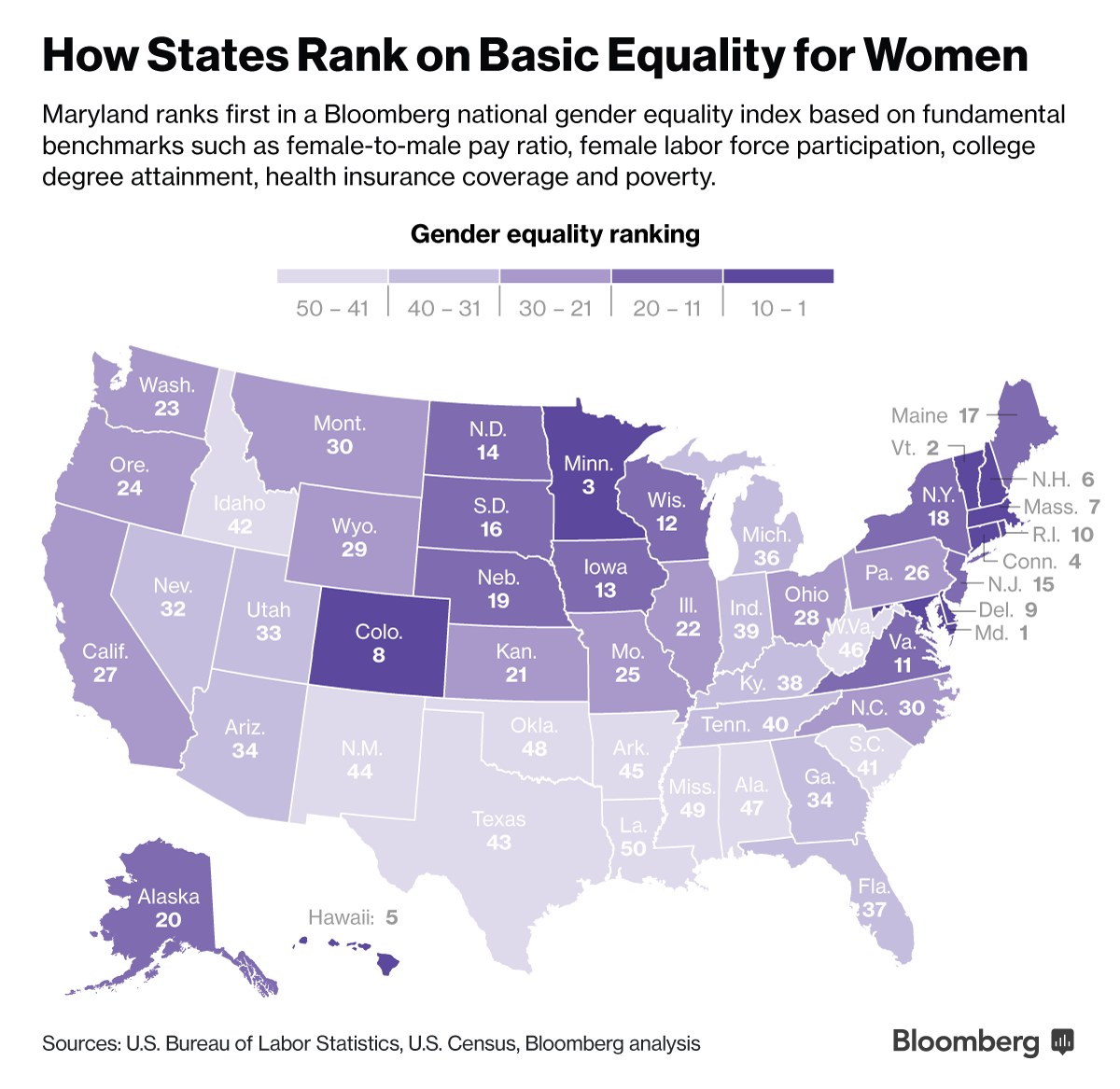 The large public sector in the region also helped Maryland garner the top spot in a separate index of gender equality in leadership, measured by business ownership, lawmaking, advanced-degree holders, high salaries and executive positions in business and government. Women claimed a third of Maryland's six-figure paychecks and had the second-highest number of women with advanced degrees, behind Massachusetts.
The state of Washington ranked second in the overall leadership index, followed by Colorado, which has the most women-friendly legislature, according to the Bloomberg analysis.

"In general, educated women are attracted to big cities, and particularly where there is a strong public sector, because women can advance more equally in the public sector," Hartmann said.

Oklahoma and Mississippi were near the bottom of the list again, reflecting the dearth of women in manufacturing jobs.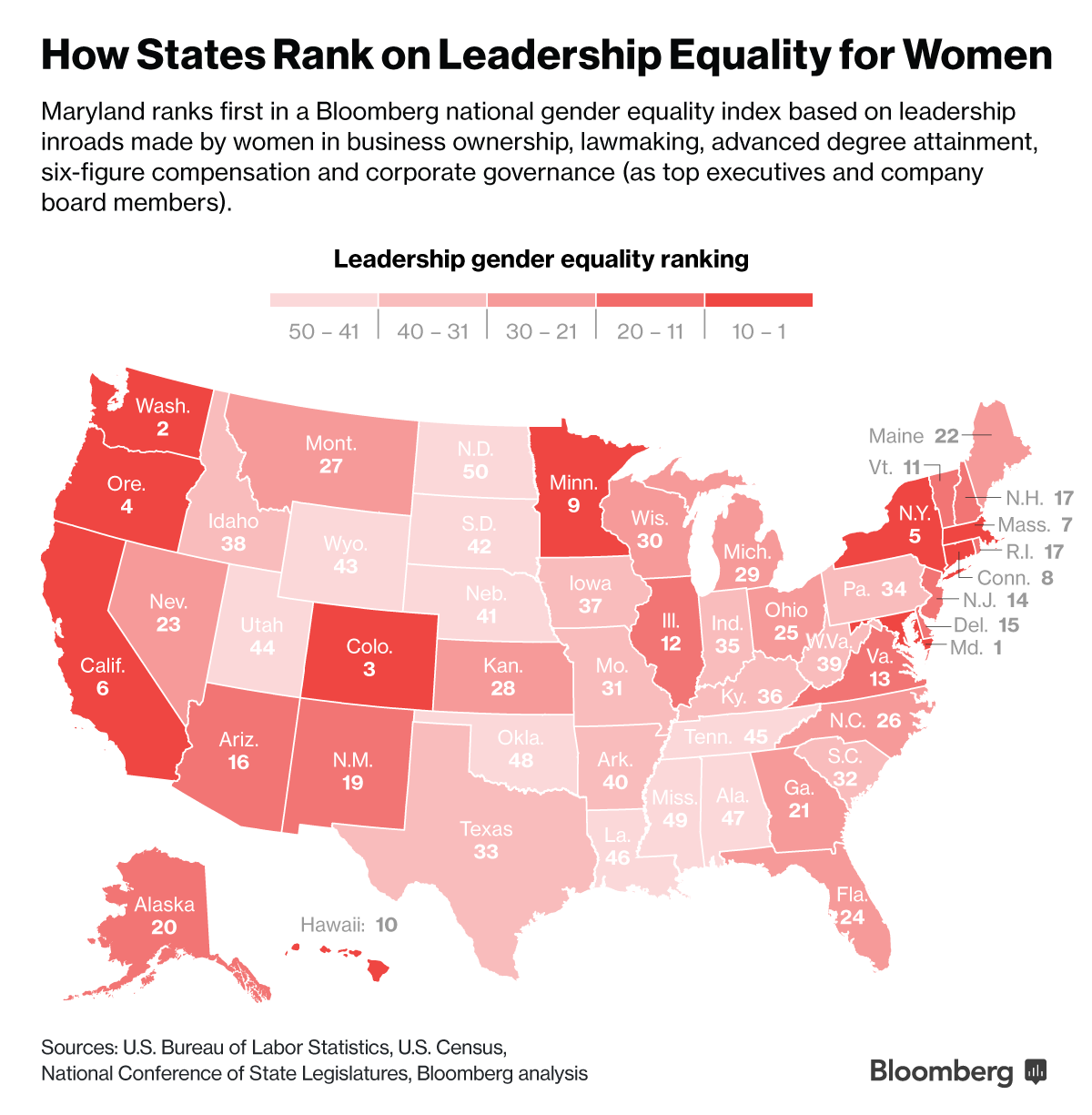 Despite making up half of the population, women hold about 19 percent of the seats in Congress, according to data from the Center for American Women and Politics, a research unit of the Rutgers University of New Jersey. Only six women were serving as governors in 2015, according to the group.

A larger share of women in politics could help draw attention to issues such as paid family leave, affordable childcare and equal pay, Hartmann said.

Females make up 25 percent of senior executive positions at Standard & Poor's 500 companies and 19 percent of corporate board seats, according to Catalyst, a global non-profit group that works to promote women in the workplace. More generous family-friendly work policies could lure more women into the workforce and help them advance in their careers faster.

Greater diversity in senior leadership may make financial sense as well. A report by the Peterson Institute for International Economics and Ernst & Young found that firms with at least 30 percent women in senior leadership positions may boost a company's net profit margins by about 15 percent compared with those with no female leaders.

"It will change gradually, but there are a lot of things that could escalate that rate of change," Hartmann said. "One thing we can do is to have essentially a quota for women on boards. I would expect that the more women on boards, the more we'll see in top management. Women in management hire and promote more women."