By Eric Titner, The Job Network
USA TODAY, April 8, 2018 —
If you're on the hunt for a new job, you know the competition for available openings is tough, no matter what field you hope to enter.
This means that when you're applying for a position that seems to match your background, skill set, and interests, you need to make absolutely sure that your presentation and approach are razor sharp — this includes making sure that you follow the requirements for applying precisely. Trust us, in a job market where there are droves of qualified candidates for every available position that opens up, if you neglect to follow the procedures outlined for applying to a position, you're likely jeopardizing your chances of being considered seriously.
This includes making sure that you know the difference between a resume and a curriculum vitae (CV), and sending the correct one when asked by a potential employer. Let's look at each so you know how to tailor your document to meet the requirements of each job post you are interested in.
Resume
Most job hunters are familiar with resumes — they're designed to be short overviews of a candidate's background and experience. Resumes are much shorter and less detailed than CVs, and are typically used for non-academic, non-research based positions in the United States (in other countries across Europe, Asia, Africa, and the Middle East, CVs are often the norm when applying for jobs). Resumes are typically only about a page long, sometimes slightly more if you've been working for a long while or have an extremely varied job history. But unlike a CV, the goal of a resume is to be brief.
A candidate's resume is typically tailored to the position she or he is looking for, and often contains an objective or summary statement along with one's education, experience, job-specific abilities and skills, and personal contact information. Although there are countless ways in which a resume can be formatted and designed, a straightforward, clean, and professional approach that embraces readability over creativity is appreciated by most HR personnel, hiring managers, and potential employers.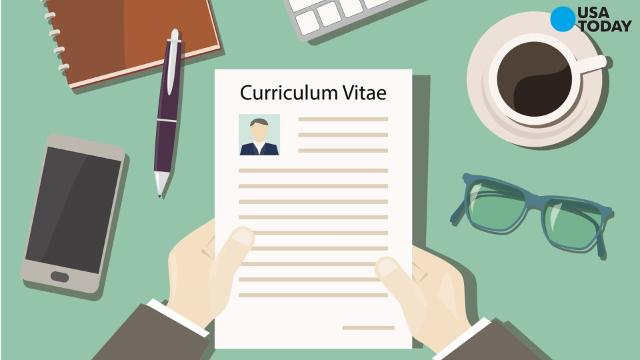 CV
A CV is typically a longer and more in-depth summary of a candidate's skill set and experience — it can run two to three pages or more, depending on the candidate and her or his background and accomplishments. Although CVs are widely used in a variety of fields in countries outside of the United States, in America they are typically utilized when applying for academic, scientific, medical, education, research, and international employment positions.
CVs are also often utilized as part of funding applications, such as for grants and fellowships. If these are the sorts of opportunities you're pursuing, then make sure that you have a professional and polished CV at the ready.
Along with the usual information that you'd find on a resume, including education, experience, job-specific abilities and skills, and personal contact information, CVs include a candidate's teaching and research experience, publications, fellowships and grants, licenses, relevant professional associations and awards, as well as any other information that's relevant to the position being applying for.
When sending in a job application, make sure you know the document a company wants to see. Take care with the document you send in — don't just lazily send in a resume when a company asks for a CV. If you're confused, it's fine to clarify the length and scope of what they expect. And whatever you send in, always give it a final proof before sending to make sure it's correct, up-to-date, and free from careless typos and grammatical errors. Presentation matters. Good luck!