Once World War II began, thousands of African Americans rushed to enlist, intent on serving the nation that treated them as second-class citizens. They were determined to fight to preserve the freedom that they themselves had been denied. This is their story.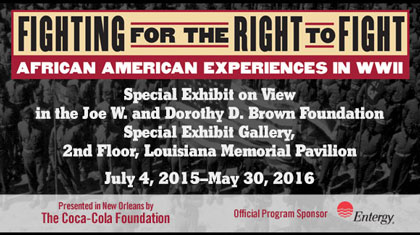 New Orleans, February 1, 2016 — An amazing exhibit at the National WWII Museum details the experiences of African American soldiers during WWII. Called "Fighting for the Right to Fight: African American Experiences in WWII," the exhibit features artifacts, photographs, oral histories and associated educational programming to highlight some of the extraordinary achievements and challenges of African Americans during World War II, both overseas and on the Home Front.
Specifically, it explores how World War II became a major catalyst in the twentieth century for African Americans seeking comprehensive social change.
Individual components of the exhibit include:
· The centerpiece of the exhibit – an original eight-minute video about the famed 332nd Fighter Group (better known as the Tuskegee Airmen), who in many ways became the public focus of African American participation during the war. The piece is narrated by television personality Robin Roberts, whose own father flew with the Tuskegee Airmen during the war.
· A collection of medals representing the seven African Americans who were awarded the Medal of Honor in 1997, the bittersweet result of a long investigation by the US military on discriminatory policies in the awarding of combat medals.
· The exhibit also provides in-depth coverage of lesser-known events and service, such as that of the USS Mason, the first American ship to have a predominately African American crew.
· Fighting for the Right to Fight concludes with an examination of the results and social changes brought about by the events of World War II. The forward momentum and ambitions for change that the war stimulated among African Americans was undeniable, and would transcend the end of the war.
Fighting for the Right to Fight: African American Experiences in WWII is a poignant retelling of the stories of the thousands of African Americans who rushed to enlist at the start of the war, intent on serving the country that treated them as second-class citizens. The special exhibit discusses how hopes of equality inspired many to enlist, the discouraging reality of the segregated non-combat roles given to black recruits, and the continuing fight for "Double Victory" that laid the groundwork for the Civil Rights Movement.