Connecticut Department of Labor
The interview is one of the most important parts of the job search process. It gives both you and the employer an opportunity to exchange information to determine whether you are a good match for the position and for the company. The interview should be regarded as a focused business conversation. Use this time to learn more about what the employer's needs are, and express what you can do to meet those needs. In many cases, you will interview twice for a position — once in a brief screening overview, and once in a meeting specifically focused on the job opening.
A job interview is a systematic, purposeful conversation. Your goal is to show the employer that you have the skills, background, and ability to do the job and that you can successfully fit into the company and its culture. It is also your opportunity to gather information about the job, the company, and future career opportunities to determine whether the job and the company are right for you.
Most employers do not hire on the basis of qualifications alone — personality, confidence, enthusiasm, a positive outlook, and excellent communication skills weigh in heavily on the selection process.
After your cover letter and résumé, the interview is your best opportunity to impress the employer. You can accomplish this by using effective interviewing skills. The best way to do this is to:
prepare a brief presentation of your background;
thoughtful answers to potential interviewing questions;
well researched questions about the company; and,
develop an effective strategy to market yourself.
Also consider what the job has to offer so that you can discuss it with the employer.
Remember that interviewing is a skill as well, and becomes easier with practice. Most American Job Centers have workshops in Interviewing Skills designed to help you improve in this area.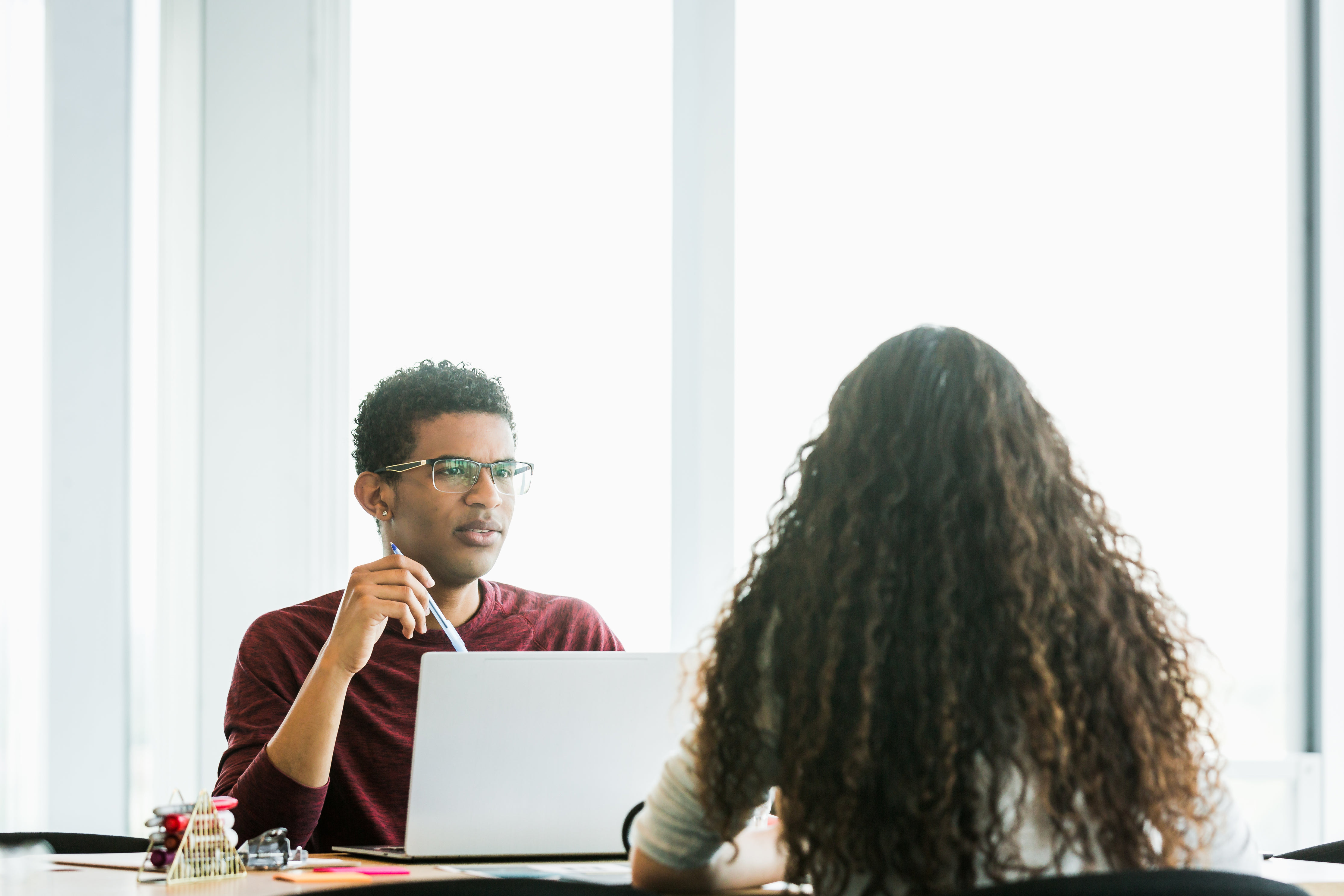 Be Prepared
It is very important to prepare for the interview by researching the job opening and the company. You can accomplish this in some of the following ways:
request company materials, such as an annual report or job descriptions;
use library or career center resources;
ask friends, teachers or colleagues about the company; or
look at the company's home page on the Internet (if they have one).
If you have researched the job opening, then you will be able to show the employer specifically how your qualifications meet the job requirements.

Practice! Practice! Practice!
Prepare clear, concise answers to the questions found in the interview questions section. Practice your answers with a friend or in front of a mirror. Ask for constructive feedback on your performance. Try to avoid using phrases such as "you know … ", and "like … " And, try not to sound as if you're scripting every answer. The most successful candidates are those that practice the most.

Interview Logistics
The more you know, the better. Try to find out when the interview is scheduled, what to expect, how long you will be there, and whether you will be speaking to one person or more.

Interview Professionalism
Arrive early, approximately 5-10 minutes. If you are not sure where the company is, call ahead for exact directions. Leave some extra time for unexpected delays such as traffic, parking, etc. If you are running late, let someone know immediately. Leave some extra time to re-read your résumé, settle down, and be ready for the interview.

Dress For Success!
Dress appropriately based on the environment of the job opening. If you will be working in an office or other business environment, wear a professional business suit; if you will be working in a more relaxed environment (such as a warehouse or a manufacturing environment) neat and clean pants, shirts, skirts, and dresses are acceptable. Women should avoid wearing too much jewelry or make-up, and men should avoid dressing too flashy or wearing too much cologne. Remember that you want to make a good first impression!

Be Organized
Carry a notepad to jot things down (but don't be preoccupied with taking notes during the interview). Bring extra copies of your résumé, and have names, addresses, and telephone numbers of references (in case the employer asks). And, it's always a good idea to have a list of questions for the employer.

Presenting Yourself
Volunteering relevant information about yourself will make the interviewing process easier on you. Think about how you want to present yourself (experience, education, skills, etc.). Review your résumé to see what the employer might consider strengths or weaknesses. Think about how you can answer difficult questions accurately and positively.

Honesty
The interview gives the employer the chance to get to know you. While you do want to sell yourself, answer each question with an honest response.

Keep It Positive
Never say anything negative about past experiences or employers. Always try to say something positive about the experience. Try to be enthusiastic — if you are very interested in the job, let the employer know it.

Show Interest
One of the best ways to show your interest in the job is to research the company beforehand. Ask questions about its products and services. Also ask questions that build on your interview discussion. This will demonstrate that not only are you interested, but that you are paying close attention to the employer. Insightful comments on what the employer says can take you far. At the end of the interview, it is permissible to ask when you might hear from the employer.

Don't Discuss Salary
Do not bring up the issue of salary during the first interview. Rather, try to find out as much as you can about general salary levels of the company beforehand. If the employer asks about your salary expectations, try to give a general answer.

After-Interview Notes
Take time after the interview to jot down anything that comes to mind that might influence your decision of whether or not to accept the position. Examples are your impressions, and any remaining questions. This is especially helpful in keeping track of facts about each employer if you are interviewing with several different companies.

Follow-Up
Always write a thank you note to the employer within 48 hours of the interview, even if you are not interested in the job, or if the interview was unproductive. It is important to let the employer know that you appreciate the time that was spent with you.
For this and related information visit the Connecticut Department of Labor at https://www.ctdol.state.ct.us/progsupt/jobsrvce/interviews-effective.htm