The wage gap starts here.

By Emily Peck , Executive Business Editor, The Huffington Post
HuffPost Business, April 21, 2016 —
For the class of 2016, it's the best job market in years. The number of employers looking to hire college graduates this year is the highest in nearly a decade,  according to a survey out Thursday.
But if you're a male college graduate, your job prospects are even better. Fresh out of college, men far outstrip women when it comes to wages.
Male college graduates, ages 20 to 24, earned 8 percent more in 2016 than they did in 2000. Meanwhile, their female counterparts made nearly 7 percent less than they did in 2000, according to a different report released Thursday by the Economic Policy Institute. The average male college graduate was making $20.94 an hour; the average woman made $16.58, according to EPI's research.
The culprit? Wages are rising fast for men at the very top of the college pyramid, while pay is basically flat for the rest of us, the researchers say.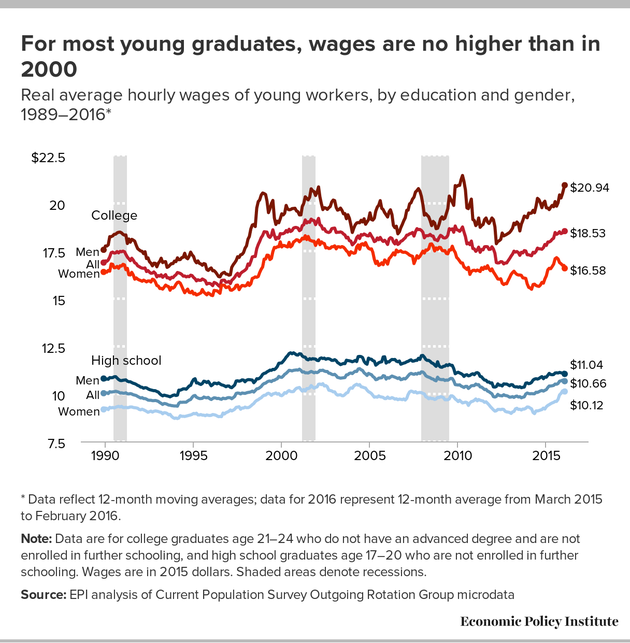 "Growing inequality among grads is pulling up the average wage for men and contributing to the gender wage gap," Elise Gould, a senior economist at EPI who coauthored the study, told The Huffington Post.
In the U.S., men on average make more than women — at every income level — for a variety of reasons, including discrimination, job and college major choice, and work experience. The EPI data pinpoints a new culprit — rising income inequality is pushing men and women's wages apart. Indeed, the gender wage gap is highest for the highest-earning Americans.
Female college graduates earn 79 cents on the male dollar, according to EPI. The pay gap is narrower for women with only a high-school education — 92 cents on the dollar. In fact, female high school graduates, ages 17 to 20, who aren't enrolled in college, saw wages rise by 1.6 percent since 2000. Their male counterparts' wages fell over that period by 5.7 percent. EPI attributes this group of women's wage growth to increases in the minimum wage passed in some states and cities — which disproportionately affected low-income women who are more likely to work at the wage floor.
Men at the bottom are doing worse, in part, because there are fewer well-paying manufacturing jobs for high-school graduates.
The EPI study looked at data on wages from the census Current Population Survey, with numbers in 2015 dollars. Gould and her colleagues looked at average wages, which means that a few high-earning men likely pulled up the figure for the entire group.
Still, the gap is worthy of attention: It's yet another flashing red-light indicator of growing income inequality in the U.S., a signal not only of the stubborn gender pay gap, but also of the widening gulf between the very privileged and everyone else.
For most of the country, wages have been relatively flat, going nowhere for decades. For the top 1 percent of earners, though, everything's been pretty awesome.
Frederic Liegl and Sabine Williams both went to elite colleges. Liegl is majoring in economics at the University of Chicago and will graduate next month. Williams earned a bachelor's from Brown University in December, with a major in ethnic studies.
This summer, Liegl is moving to New York City to work in equity derivatives at a prominent bank. He declined to reveal his pay, but the typical starting salary in his industry is around $80,000 a year.
Williams will probably still be living 40 miles north of the city at her parents' house in Hartsdale, New York. She's job hunting — most of the positions seem to be around the $35,000-a-year range — working part time at Starbucks, and doing some babysitting. While she's had some offers, nothing's been quite right.
"I'm not saying I want the perfect job. But I'd like to find a job I won't hate," the 22-year-old told The Huffington Post.
Her chances are actually pretty good, according to a survey released by jobs site CareerBuilder on Thursday. Sixty-seven percent of employers surveyed said they plan to hire college grads this year, up from 65 percent last year. This year's number is the highest since the Great Recession.
"It's looking rosier this year," Rosemary Haefner, CareerBuilder's chief human resources officer, told HuffPost. "More companies are hiring and there's an increase in what they're paying."
More than half of these newly hired graduates will make $40,000 or less. A lucky 27 percent will earn $50,000 or more. Those top earners are likely to be graduates with degrees in science, tech, engineering or business, according to CareerBuilder.
The most in-demand majors, according to CareerBuilder's survey, are business, computer sciences, engineering and math. Not coincidently, these are fields where men are in the majority, both at the university level and in the professional world. They're also fields that recruit aggressively on campuses — making it easier for certain graduates to land jobs.
Liegl was recruited on campus for his job. But Williams didn't get much help at the university career office.
"At my university, they gave no guidance for anyone that doesn't want to go into finance, consulting or STEM [science, tech, engineering, math]," Williams said. "I'm more interested in nonprofit."
EPI's Gould agreed that some of the wage gap between men and women can be attributed to choice of major and occupation, but that's not the full story.
"It's easy to dismiss this as 'choice' when I think that discrimination leads men and women into different fields," Gould said. "Even within those higher-paying professions, women are still paid less."
Sarah Grossman contributed reporting.